Would you rather talk to a member of our staff? Give us a call at 336-288-3865 and fill us in on your project!
Kitchen Remodel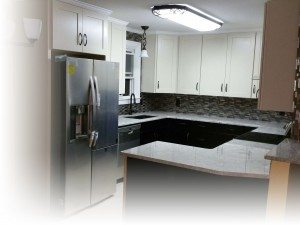 The kitchen is the place where meals are cooked, where holidays are celebrated, and where the family comes together each day. Not only is the kitchen design an important part of your life, it's also a huge factor that can drastically increase the value of your home. Whether your kitchen is in need of a simple remodel, or needs to be prepared for resale, KC's Improvement & Construction has a wide range of kitchen makeovers for you to consider.
Kitchen Design
The following options are available when planning your ideal kitchen design:
A modern kitchen, retro galley kitchen, or open kitchen design
New kitchen cabinets
New countertops or islands with stone surfaces
Additional sinks, which make cooking with family easier
New flooring, including laminate, tile, or hardwood
New high-quality appliances
Fresh paint on surrounding walls
New wall and/or ceiling finishes
New lighting, electrical, and/or plumbing systems
Additional windows, allowing more natural light
Complete removal of all appliances, fixtures, and walls
Beautiful Kitchens
When planning your new kitchen renovation, be sure to consider your household's exact needs. Small details such as a tile backsplash or silver cabinet knobs can not only make your kitchen much more pleasant, but more valuable for resale as well. As always, feel free to contact KC's Improvement at any time so we can start creating your perfect kitchen design with you. We will be happy to discuss the potential costs and other home improvement projects. As licensed contractors, we deliver the highest quality kitchen renovations in Greensboro, Winston Salem, High Point, Lexington, Asheboro, Thomasville, Burlington, Reidsville, and surrounding Triad cities.