One of the choices that many people struggle with during a remodeling project is coming up with the right color combinations. There is a reason why this is so difficult; new tones and shades are constantly emerging and color trends are always changing. Some people play it safe with white with a few deviations into ivory or other types of off-white, but even the more subdues tones like gray can work wonders in the kitchen.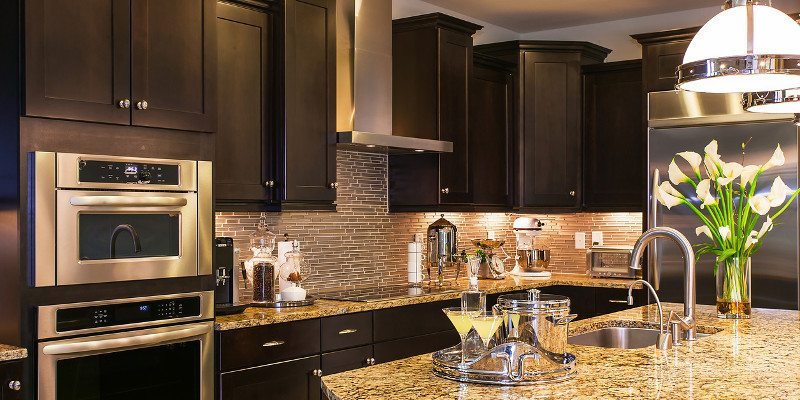 Gray Accents
Gray does not need to be the dominant color in the kitchen, as it works effectively to complement other colors such as white and shades of blue. Gray also works in the background to highlight kitchen cabinets. This color offers vital balance, especially with smooth surfaces of large appliances in the space.
Take advantage of gray shades as often as possible. Like so many other types of colors, gray offers homeowners a number of different tones. Using different tones of the same color can add more depth to a space. Using a layered approach in terms of color and design can give the illusion of more space.
Try Charcoal Gray
The beauty of charcoal gray is that it is so well represented in nature, making it a perfect for a kitchen with an earthy theme. It is the perfect neutral tone to anchor the kitchen's overall color pallet, especially if it uses pastels and whites. Charcoal gray itself offers variations in tone, so there some flexibility even with this single color.
Go for Contrast
Mix and match grays and other colors in different ways for a dramatic impact. You can get the same effect by combining white with gray, or using drastically different grays throughout the space. Add your primary accent color to really make the space pop.
Gray Cabinets
In the past people preferred kitchen cabinets that retained the natural appearance of wood. Painting them became a popular trend, but it is only relatively recently that gray emerged as a suitable color for kitchen cabinets. For a stronger visual impact, try using both gray and natural wood cabinets. You can also experiment by using one gray for the cabinet and cupboards, and a different shade of the color for the doors.
Somber Colors Are Not Boring
The use of gray is an easy way to restrain your design urges so attention will be focused where it is supposed to be. In any kitchen, you want to highlight your fixtures and appliances, and the layout. Adding some balance with seemingly austere gray can help you to achieve this in the right way.
Choosing Colors for Your Remodeled Kitchen
We understand that choosing the colors you will live with for the next few years or so can be a bit overwhelming. Our kitchen design and color experts will help you make the right decisions for your newly remodeled kitchen. We're located in Greensboro and provide all types of design, build, and remodel services to homeowners and commercial property owners in the area.
Take a look at our kitchen design and remodeling gallery to see real world examples of our workmanship. Follow us and like us on Facebook to keep up with our latest projects and get some great information and ideas for remodeling your kitchen. Give us a call at 336-288-3865 to schedule an appointment for a consultation or to discuss your upcoming kitchen remodeling project.