The Smallest Detail often Makes the Biggest Impact in Kitchen Remodeling
We've all heard the ages-old adage that goes something like, the devil is in the details. Anyone who has ever built, remodeled, or even decorated a home understands that it's the finishing touches – the details – that really make a home shine. The smallest details can make your kitchen remodeling project soar or they can cause it to be entirely lackluster in the end.
Today we're going to talk about kitchen cabinet hardware – knobs, pulls, and hinges. The smallest detail that often carries the most weight in the kitchen. We want you to fully understand how important this decision is before you call us to schedule your initial consultation for your kitchen remodeling project.
Types of Kitchen Cabinet Hardware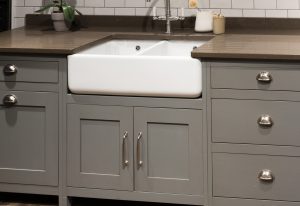 You aren't stuck with the smooth chrome plated metal or plastic cabinet hardware from the 50s, 60s, and 70s. You have so many different choices of material than your great-grandmother had. Glass, crystal, wood, and a variety of metal or stone are available for your choosing. Choose something that will either complement the focal point of the room or become the focal point of the room.
Shapes of Kitchen Cabinet Hardware
Circles, balls, half-moons, and bars are only a few of the shapes available. Metal pulls may be twisted and shaped into any shape that works well with the overall aesthetic you seek. A beach themed kitchen, for example, may benefit from hardware that resembles waves or beautiful blue crystal balls. Get really creative and use pulls designed after a lighthouse or a compass rose to complete a nautical theme.
Sizes of Kitchen Cabinet Hardware
The size of your kitchen cabinet hardware will depend on the stylistic appearance as well as what feels right in your hand. People who deal with the daily struggle of arthritis, for example, need pulls that are easy to use without requiring a steady grip. A hook, bar, or knob with a ledge to pull against would be an excellent idea; a smooth crystal ball would not.
Custom Kitchen Cabinet Hardware
Knobs, pulls, bars, recycled, upcycled… where do the choices end? Quite honestly – it doesn't. And that is perfectly okay! Don't let that idea overwhelm you, it simply means that you can turn anything into cabinet hardware. You can even turn old broken tile or dishes into incredible kitchen cabinet hardware with the right customization.
Hinges
Quiet close hinges are extremely popular because they keep the cabinets and drawers from slamming shut when they're let go and allowed to close on their own momentum. Choose hinges that work well with your decor or can be hidden. Many people fail to realize that hinges are absolutely visible and need to blend in with the rest of the kitchen.
Homeownership is riddled with opportunity and change; the opportunity to remodel and change your surroundings is all part of owning your home. The average kitchen is remodeled roughly every seven years. This gives trends time to change, colors time to evolve, and new designs to be brought to the forefront. We provide kitchen remodeling services in Greensboro and the surrounding area. We work with homeowners just like you to expand upon or improve the way you use your home. Call us at 336-288-3865 or use our online form to request information about kitchen remodeling in Greensboro.
You want to make your kitchen different from the rest check out these cool Knobs and Pulls!
No one is going with the traditional design anymore.  Check out the latest Kitchen Hardware trends from HGTV!