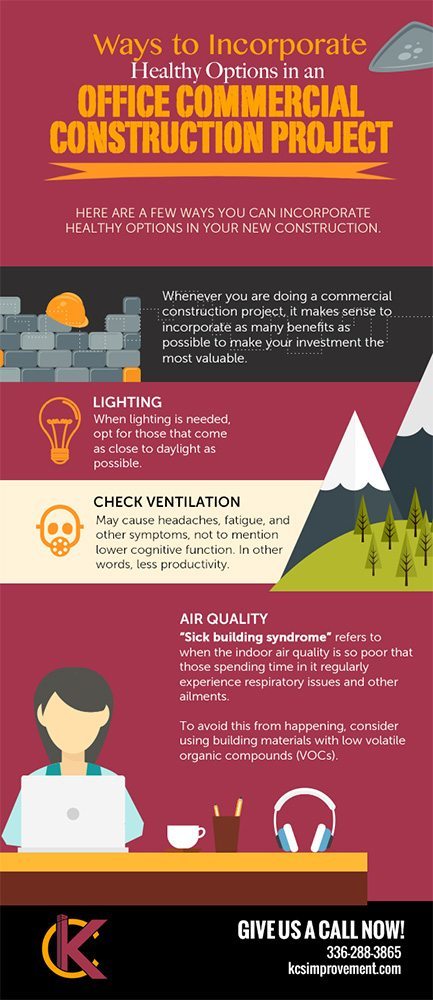 Whenever you are doing a commercial construction project, it makes sense to incorporate as many benefits as possible to make your investment the most valuable. One thing you may not have thought about is creating healthy workplace traits that make your new space green and productive. Here are a few ways you can incorporate healthy options in your new construction.
Air Quality – It will be difficult for your business to remain profitable if your staff continually deals with the effects of poor indoor air quality. The term "sick building syndrome" refers to when the indoor air quality is so poor that those spending time in it regularly experience respiratory issues and other ailments. To avoid this from happening, consider using building materials with low volatile organic compounds (VOCs).
Ventilation – Choose a ventilation system that will effectively filter out pollutants and contaminants. It is worth the expense to go with the highest MERV rating filtering possible because quality systems can filter out bacteria, as well, which can reduce lost productivity due to employee illnesses spreading through the office. A poor ventilation system will make the building feel unpleasant and stuffy. It can also cause headaches, fatigue, and other symptoms, not to mention lower cognitive function. In other words, less productivity.
Lighting – Regardless of the hype, even the best artificial lighting is not as beneficial to overall wellbeing as natural light. This is part of the reason why many commercial construction projects have been opting for an open floor design instead of separate offices where only a few get the luxury of a window. When lighting is needed, opt for those that come as close to daylight as possible. Another good plan is to use occupancy sensors, so lighting is used only when needed. The added benefit of energy cost savings doesn't hurt, either.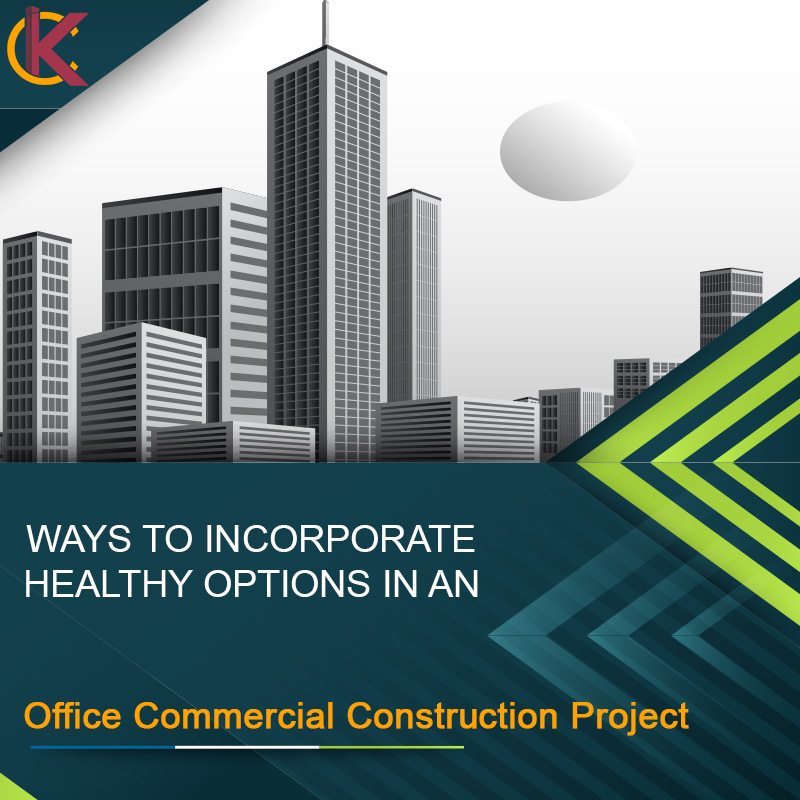 If you are looking for a commercial construction company to help you with a remodel or outfitting that will incorporate healthy options in the build, contact us at KC's Improvement & Construction Co., Inc. We take the time to fully understand the scope of the project and provide you with the best solutions to meet your objectives. We have been in business for over 30 years in the Greensboro, North Carolina area, so we are confident we can deliver the results you are looking for.