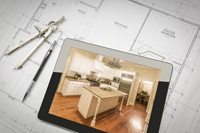 Sometimes when we hear about "trends" in remodeling we think about "trendy" things such as what the hot colors of the year are. Here's what the industry has been seeing on which projects people have most wanted to do in their homes:
Universal Design (that meets the changing needs of Baby Boomers and Gen-Xers)
Kitchen and Bathroom Remodeling (with walk-in showers being increasingly popular)
Granite and Quartz Countertops (It's looking like quartz may finally overtake granite as the most popular surface)
Home Automation (affordability of new systems makes them more popular)
Want to know what the go to home remodeling projects are.  Check out our blog to see what the industry has deemed as projects people want done to their homes.