Done right, a bathroom remodel can add lasting beauty and value to your home.  Done wrong, a bathroom remodel can quickly turn into a money pit, where you have to spend more than your initial budget correcting critical mistakes.  Needless to say, doing your bathroom remodel right is important.  In this article, we'll review the four biggest plumbing mistakes homeowners make when tackling their own bathroom project.  We'll also discuss how you can avoid making these mistakes, and why you should call a professional if you get stuck.
Mistake:  Poor measurements
Improper measurements are a common–and frustrating– mistake to make when remodeling your bathroom.  Without careful measurements and planning, something is bound to go wrong:  your toilet won't be the right size, your tile will be crooked, your vanity won't be level, and so on.  This goes double for the plumbing and pipes in your bathroom.  Make sure, for instance, that the pipes and their threads all match up before you buy.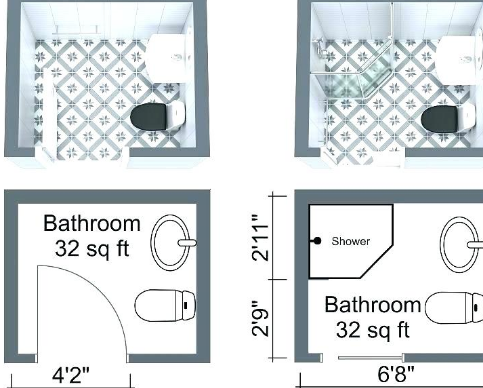 Mistake:  Improper shower sloping
To the casual observer, the shower floor feels relatively flat.  The truth is that every shower has an ever-so-gradual slope that allows gravity to pull water down to the drain.  Without this sloping, hthe water will be stuck in place on the floor of the shower, and you'l' be standing in a cold pool of water every morning.
The recommended minimum slope for a shower drain is 4%, which means that the floor level drops .5 inches for every 12 inches of flooring toward the drain.  If you have a shower that is three feet by three feet, this means that the edges of the shower basin near the wall will be 1.5 inches higher than the floor near the drain.
Slope is created at the cement stage.  This means if a shower slope is installed incorrectly, it often has to be restarted from the very beginning.  We recommend talking with a professional plumber or bathroom remodeler if you need help sloping your shower.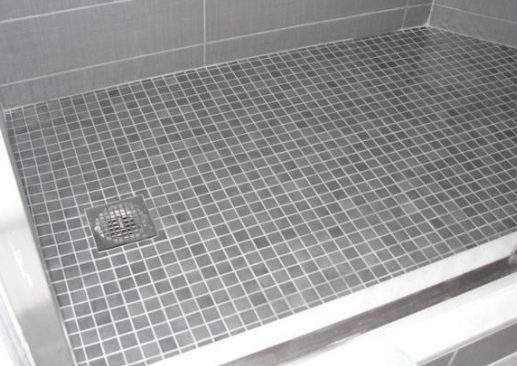 Mistake:  Improper drain venting
The sink trap under your bathroom sink is far more sophisticated than you might anticipate.  The trap's purpose is to retain standing water that blocks the sink end of the pipe from the sewer line end of the pipe.  This serves several useful purposes.  First, the sink trap configuration prevents hazardous and smelly sewer gases from leeching into your home through your pipes.  Most homeowners know they have a sink trap issue when they wake up to a bathroom that smells like a sewer.  Your sink trap also can be a barrier against pest infiltration via the sewer pipe.
To form this important seal, the pipe needs exact venting to create air pressure.  Be sure to follow the instructions to the letter when installing drain pipes underneath your sink, and call a professional plumber if you run into issues or– after installation–smell the distinct odor of sewer gases.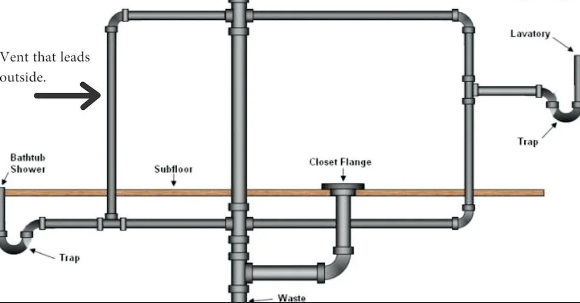 Mistake:  Hiring the wrong people
Even if you are completing your own bathroom remodel, there are points where you might want to bring in a professional, either to help with something specialized–such as shower sloping or drain venting–or for a second opinion on the quality of your work.  In either case, it's imperative that you
hire the right plumbing professionals
for the job.  Bad work or advice from an unqualified plumber can set your project back by weeks and eat away at your bathroom remodeling budget.
To get the right plumbers and bathroom remodelers for your job, we recommend doing the following:
Talk to your neighbors:  Chances are, you aren't the first homeowner to remodel a bathroom in your neighborhood.  Your neighbors will not only have advice for you, but will also be able to point you in the direction of local professionals they trust–and those they warn you to stay away from.
Read reviews:  Online reviews can tell you a lot about a plumber.  Don't just look at the star rating.  Get into content of the review and learn why people liked, or disliked, that professional.  Zero in on plumbers who stand by their word and did right by homeowners.
Research:  Find plumbers who specialize in plumbing installation and bathroom remodeling work.  Give them a call and tell them about their project.  If you're lucky, they'll have experience working in similar situations and know just what to do.
When in doubt, call in a professional to assist you with your bathroom remodeling project.  While a bathroom renovation is a project that most handy homeowners can tackle, it never hurts to have a professional handle some of the more complex aspects of the remodel.
Lauren Anderson is the content specialist at Wagner Mechanical, a professional home service company serving Albuquerque.  Lauren has studied Construction management and currently enjoys writing about topics that help homeowners in taking good care of their homes.  At Wagner, customers can trust that we are going to guarantee not only the work we do, but that our service meets their expectations.