We fully believe that everyone's home should fit their current lifestyle.  That's why we're so fond of remodeling for elderly adults who plan to live independently for many years to come.  The entire home needs to be evaluated for age-appropriate friendliness to help ensure the protection of the lifestyle of our elderly friends.
The exterior of the home is just as important as the interior when aging in place is taken into consideration.  You must consider replacing the high maintenance siding with a low maintenance alternative such as vinyl or brick.  All landscaping must be low maintenance as well.  Exterior surfaces such as patios, decks, or porches must be sturdy and no more than one-half of an inch below the interior floor level.  These specifications meet the requirements set by the National Association of Home Builders for Aging in Place.
the entryway must have an easily accessible, clear path of travel through to the living spaces.  There must be at least one no-step entry door that has no steps leading to it.  A wheelchair ramp leading to the front door would be the ideal solution.  No-slip flooring should be installed in the foyer to prevent slip and fall accidents once inside, regardless of weather conditions.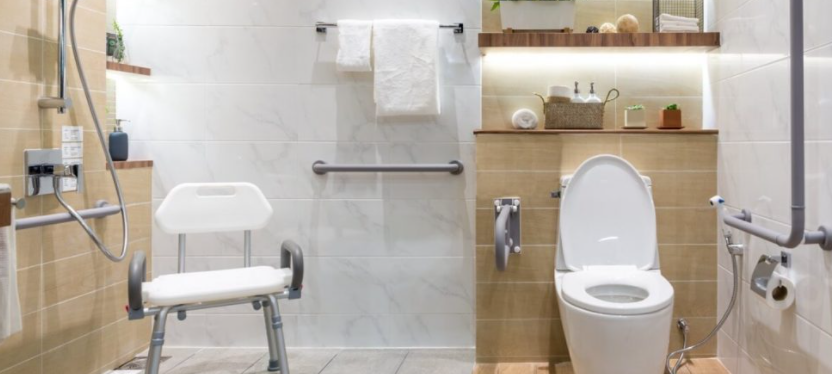 Interior modifications must be made in order to protect elderly homeowners from injury.  The overall floor plan must be level and have access to a bedroom and full bathroom.  Each room on the main level must have a five-foot by five-foot clear space to turn a wheelchair or walker in case of mobility issues.  Hallways and doorways must be at least 36 inches wide.
The home should have plenty of windows for natural light.  Windows should be designed so that elderly hands may easily open and close them.  Window height should be at a comfortable level for homeowners who may be wheelchair-bound.
The bathroom and kitchen must usually be remodeled in order to fit the needs of the elderly homeowner.  Very specific items need to be modified in each of these rooms.  Look for appliances that are modified for access for people with compromised mobility.  Cabinets, vanities, and countertops should be lowered to accommodate those who are in a a wheelchair or scooter.
Consider modifying your home before you hit your 50's, that way you're already accustomed to the changes when you need them.  You may find that remodeling your home room-by-room and year-after-year is the less expensive way to handle this type of project.  For example, when you're in your 30's and you have small children at home, install grab bars in the bathtub or shower.  Children find them useful and they will be a huge help when you're older.  The same may be said for other aging-in-place remodeling ideas.